By Abby Bordner
Not every woman's expectation of birth is the same, not every woman's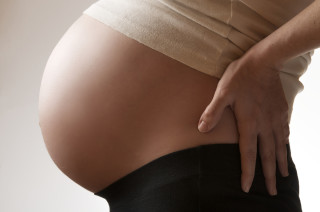 feelings about becoming a mother are the same. I wrote a workbook called Creating Stillness: A Journal for Childbirth Preparation so that women can explore their inner world as they approach the transformative event of birthing their babies. It is meant to be a personal discovery of your own feelings about pregnancy, birth and parenthood. There are practical techniques to bring your inner world into a more peaceful state: focusing your mind and body, breathing, Open Heart Posture, meditation, movement and aromatherapy, to name a few. There are also journal prompts to write about your own thoughts and feelings.
For the last 15 years I have taught childbirth classes and I am always searching for the most important thing expectant couples need to learn. Sometimes I feel that I cannot truly prepare women for birth in classes; there is nothing I can say to truly describe the depth of experience that birth has to offer, I can't tell you how labor will be for you. However, one of my goals is to have my class participants discover something new about themselves or have a conversation with their partner that they haven't had yet. I truly believe that the process of questioning the things we have always assumed to be true, will yield far more skill than any special technique that I may teach.
In my experience, I have found that the most profound coping skill you can have in pregnancy, labor and parenthood is creating stillness in your hearts, minds and bodies. When you disengage from a negative thought, stillness becomes available in your mind and body. In stillness there is freedom. With freedom, we can cope. My hope is that by creating paths to stillness, you are not only prepared for birth, but for life as a parent. Moment by moment, you can access freedom in your breath. You can access the freedom of connecting with your body, mind and spirit.
I encourage pregnant women preparing for birth to find activities that bring you joy and peace. In these moments you build your confidence and connection with the people you love. When you begin to trust yourself and those who care for you, it guides you to your best resources. Allow freedom to come in each moment that brings stillness and joy. My blessing for you is that birth will be rewarding and mysterious, and uncover your strength and creativity needed for life as a parent.
In my course for Women's Leadership Live called Mindful Preparation for Birth, you'll get the perfect balance of good information, skills for managing uncertainty and flexibility needed to navigate birth. Please join me on the journey of preparing for the great mystery of birth. You'll be glad you did!
www.abbybordner.com
Posted in: childbirth | Tags: childbirth, natural birth, pregnancy