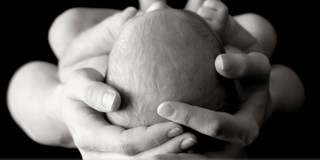 I studied and certified to become a doula two years after my son was born. I was worried about the demands of being on call but my heart pulled me toward my studies and eventual certification to assist women and families through one of the most meaningful events of their lives: the birth of her baby. Now, 16 years later, I am faculty for Childbirth and Postpartum Professional Association (CAPPA) and I train women to be labor doulas in New Mexico, Arizona and Colorado. To learn more about my trainings, go to www.abbybordner.com and to learn more about CAPPA, go to www.cappa.net
1. You open your heart to each woman's birth story with love and acceptance. The more work you do with women and birth, the more you realize each story is unique and blessed. Your role will help women feel safe, protected and informed about the birth experience that unfolds before them, even if it's not what they expected.
2. You make a difference for your clients. It's so meaningful to be invited into the lives of families expecting a baby. Your work will be to inform, guide and support women and her caregivers in the process of late pregnancy, birth and early postpartum. Women are especially vulnerable during this time. Your support and kindness will help build confidence, connection and care for the infant that comes into the family. You're changing the world… one family at a time.
3. Your work is respected as a birth professional. The work of a labor doula is recognized as a unique and specific role for a woman in labor and birth. You're not medical staff and you're not providing medical advice. You're there to support and encourage a woman and her partner/ caregiver in making informed decisions, understanding the process and identifying alternatives, when needed. You are an advocate and personal guide for pain management, positions, massage and natural methods for coping with labor.
4. You have the flexibility of working for yourself. As a certified doula, you can set your own schedule. You take as many or as few clients as you want and you can plan for time off. You can create your own business and experience the freedom of being an entrepreneur. Many women are looking for flexible, home based work options so you can balance all aspects of your life. Doula work provides income and satisfying work, with the flexibility of being home more. (Except when your client goes into labor!)
5. Your kids will see you doing a job you love. I, personally, was torn about going back to work when my children were young. I wanted to be with them AND I wanted them to see Mama doing meaningful work I loved. So, working as a doula was the perfect path for me. I love my children dearly and knowing when I leave them to go to work, I'm going to help another Mother who loves her children dearly made it easier to say good bye to them.
6. You can travel and work in other places. There are opportunities to travel around the US and to other countries and assist as a birth doula with women all over the world. How exciting! Your certification also transfers to anywhere you may move, so you've got a job where ever you go!
7. It's a self-paced certification process that can take between 6 months and 2 years. Attaining CAPPA certification as a labor doula starts with the 16 hour labor doula training offered all around the world (see listings on www.cappa.net). After that, you enter into the self-guided certification process that is well outlined and assisted through the CAPPA office. You don't have to rush! You've got two years from your training date to complete all the requirements to be certified. Although, I've had students who are so excited to get started, they get the requirements met in a much shorter time. (See requirements for certification at www.cappa.net) My Upcoming Trainings in 2016: March 11th and 12th, 2016 Santa Fe, NM March 19th and 20th, 2016 Putnam, CT April 29th and 30th, 2016 Albuquerque, NM May 13th and 14th, 2016 Flagstaff, AZ September 17th and 18th , 2016 Durango, CO For more information, visit my website at www.abbybordner.com
8. You're in the business of connection and relationship building. As women, our feminine nature is to be the caretaker of relationships in our lives. The value of our lives is measured by the quality of connection we create in work and family. The personal and intimate relationships you build with your clients will impact their experience in birth and it will enhance your outlook on life. Finding your passion helps build a balanced and joyful life. It's good for them and it's good for YOU!
9. You'll be part of the sisterhood of CAPPA. There is a global community available to you with the CAPPA organization. Women all over the world are working to improve birth experiences for women, get more recognition for the value of doula work and become an integrated part of the team of people supporting women and families through pregnancy, birth and postpartum. I love being part of this global mission and it helps me feel connected and committed to my work every day. You will be part of the sisterhood, too. CAPPA also offers certification for childbirth educators, lactation educators, labor doulas, postpartum doulas and teen educators.
10. The yearly CAPPA Conference. Every year CAPPA puts on a conference of world class speakers and activities to give information about the latest news and research in birth related fields; pregnancy, breastfeeding, business, birth and postpartum. AND you get to spend a weekend with your CAPPA sisters. The conference is in a different location every year and FREE to CAPPA members! I look forward to attending every year as my professional development and also to meet and reconnect with other women from around the world who share the vision of improving birth with me. Interested in becoming a doula? Contact me at abby@abbybordner.com I'd love to help!
Posted in: Doula