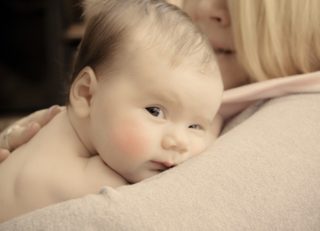 "The doula we used got us through the first two weeks after my son was born," says Lee Madiston. "My partner and I had no idea what we were doing and she made us comfortable, gave my wife support and information about breastfeeding, and helped us get to know our newborn. I occasionally got to nap and catch up on sleep — and was glad I had after she left."
The CAPPA Certified Postpartum Doula
CAPPA Postpartum Doulas fill an important role in providing emotional, physical, and evidence-based informational support to the new family after the birth of their baby.
How CAPPA Postpartum Doulas Work with Families
The Postpartum Doula works with families in the postpartum period; offering support, information, instruction, comfort, and referrals as needed. Postpartum Doulas support the mother's recovery, give instruction on infant care and feeding, and assist with household organization. Postpartum Doulas can be found working in the community in private practice, in cooperatives, as part of groups or agencies, as well as serving in various community programs.
CAPPA Postpartum Doulas:
Provide non-biased emotional, physical, and informational support during the postpartum period

Encourage the family to seek care that reflects their values and needs

Models and teaches effective communication

Encourage informed decision making

support the physical and emotional healing of the mother

Provide information on care options and resources for the mother and newborn

Support and assists with infant feeding

Educate the family on newborn care and characteristics

Provide support to the new mother's partner and/or family

Assist with household organization

Refer to healthcare professionals when support requires clinical assessment, a need for prescription, or medical diagnosis
CAPPA Postpartum Doulas do not:
Diagnose medical conditions

Interpret medical diagnoses or clinical results

Prescribe or administer treatment of medical conditions

Perform clinical procedures

Take over complete care of the infant

Transport any family members

Stay alone with babies or other children

"Sleep train" babies

Act as a housekeeper or nanny
FOR PARENTS
How do I find a postpartum doula?
Ask your childbirth instructor, doctor, midwife, hospital, or friends for a referral. The organization CAPPA (www.cappa.net)  can also help you find a postpartum doula through its online directory.
Once you have the names of prospective doulas, you may want to ask some of the following questions to make sure you find one who suits you. Keep in mind that she'll be providing personal services around your home, so you should feel comfortable with her as a person. You may want to interview more than one person.
Questions for prospective doulas:
What training or experience have you had?

What is your fee and what services does it cover? (Be sure to find out exactly what she will and won't do. For example, if you're expecting her to cook or help with an older child, make sure that's included.)

What happens if I give birth earlier (or later) than expected? Is your schedule flexible, and if not, can you refer me to another doula if need be?

Can you provide references from other families you've worked for? (And be sure to check those references!)
Keep in mind your personal response to a prospective doula during the interview:
Does she seem kind, warm, and energetic?

Does she seem knowledgeable?

Does she communicate well?

Is she a good listener?

Would you feel comfortable

having her in your home?
Investing in extra support, guidance and information during pregnancy, birth and postpartum allows you to fully engage and enjoy your experience. It's worth it!
Posted in: childbirth, Doula | Tags: birth, childbirth, doula, natural birth, newborn, postpartum