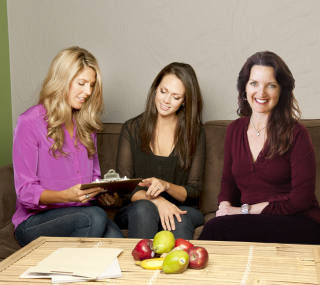 Abby facilitates trainings for groups of family service professionals and/or parents. Topics include pregnancy wellness, birth and early childhood.
Does your staff, organization or private group need training, guidance or consulting on topics related to pregnancy, birth and early childhood?
"Abby Bordner's trainings are lively and engaging. Her presentation is easy to follow, interesting and full of opportunities to learn in a variety of ways. Her material addresses various learning styles and often her presentation is an example of how you can work with families; honest, informative and open-ended. I highly recommend Abby for any training related to pregnancy, birth and early childhood!" Attendee 2014
Abby Bordner brings a wealth of experience and knowledge to customize trainings for your group, organization or community. Abby's presentations use a variety of teaching methods: lecture, visual aids, conversation, exercises and stories to deepen the understanding and learning. Consider the possibility of increasing the awareness, expertise and competency of your staff/ group through on-site or online trainings.
Some examples of topics:
Pregnancy and Childbirth
Breastfeeding Support and Success, Postpartum recovery and changes
Emotional Resiliency
The brain science of stress, toxic stress and resiliency
Meeting the needs of the child: autonomy and co-regulation
All aspects of pregnancy health and wellness
Social, emotional and physical developmental of infants and children in the first, second and third year
Building a business for birth and family professionals
Customize trainings and consultations to the specific topics your organization needs.